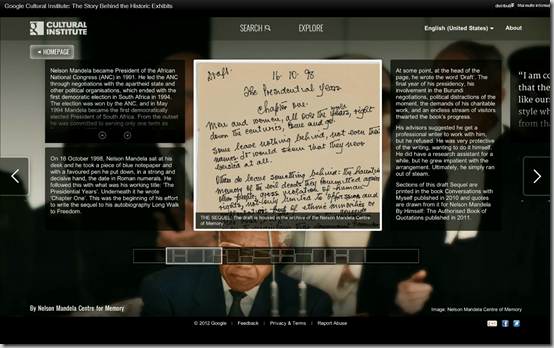 Începând de astăzi 40 de expoziții istorice de pe web sunt găzduite de Google în cadrul Cultural Institute, un proiect online ce sigur o să vi se pară interesant. Colecțiile cuprind diverse evenimente importante din secolele 20 și 21, de la holocaust și până la încoronarea reginei Elisabeta a doua, Auschwitz, războiul civil din Africa, decada Mandela etc.
Dând clic pe link-ul Google Cultural Institute intrați într-o galerie de poze care se întind pe un timeline din 1905 până în 2008. Printre imagini veți găsi și diverse materiale video și citate celebre ale celor implicați, povestea fiind foarte cursivă. Decizia Google de a crea o astfel de colecție este mai mult decât binevenită, cantitatea de informație pusă la dispoziția internatului fiind deosebit de mare. Să ne reamintim și că până acum de la Google am mai primit artă – renowned art, minunile lumii – wonders of the world, manuscrisele de la Marea Moartă – Dead Sea Scrolls. Mai mult ca sigur că în curând o să vedem și alte proiecte similare puse online.
Intră în categoria bravo Google! Avem nevoie de astfel de proiecte făcute coerent și cu materiale de calitate.