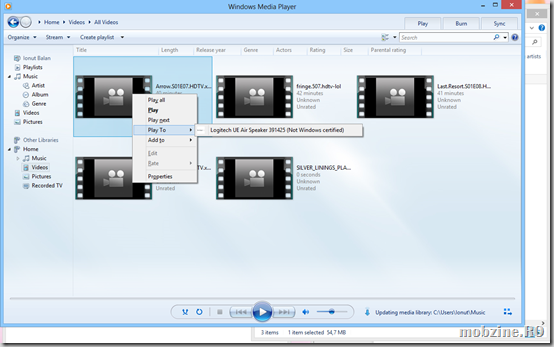 Una din funcțiile despre care s-a spus că sunt finisate în Windows 8 și integrate mai bine cu sistemul multimedia este cea prin care orice dispozitiv COMPATIBIL DLNA va putea fi legat instant de PC-ul cu Windows 8. De exemplu dacă se rulează un film pe PC, prin folosirea opțiunii dedicate din zona Charms, materialul poate ajunge direct pe smart TV.
La bază inițiativa este lăudabilă și cu aplicabilitate largă. În realitate, mulți utilizatori s-au lovit de imposibilitatea de afișare a aparatelor DLNA în lista folosită de Windows 8 și practic să considere inutilă facilitatea.
Microsoft nu a blocat total accesul la DLNA din Windows 8. Dacă pentru același material multimedia se pornește Windows Explorer și apoi e selectat, clic dreapta și Play To, dispozitivul apare în listă, chiar dacă inițial el nu a fost văzut de Windows 8. Diferența este dată de faptul că prin classic desktop se folosește Windows Media Player și nu engine-ul nou din METRO.
Pentru cine dorește să se folosească de Play To există varianta cu Windows Media Player din classic desktop.
Sau, cu puțină muncă de configurare puteți aduce în lista Windows 8 METRO și aparatele necertificate. E indicat să mergeți pe metoda de mai jos mai ales dacă folosiți un Windows RT.
Soluția e publicată de Rafel Rivera, unul dintre cunoscuții hackeri de Windows 8.
As part of a Powershell learning experience, I wrote a script that suspends the aforementioned checks in Windows 8 and offers facilities to generate the required device metadata. Here's a quick run through:

Download the latest playto-tools script + dependencies from my repository.
Open an administrative instance of Powershell, in the directory holding all the downloaded files.
Dot source the script. (. .\playto-tools.ps1)
Call Suspend-CertifiedDeviceChecks to patch the Device Property Manager to accept unsigned metadata.
Call Get-MediaRenderers to list the media renderers on your network. You need to grab the hardware ID of the device you wish to enable Play To for.
Pass this hardware ID (and the -Install switch) to New-Metadata to generate and install metadata into the Device Metadata Store.
Pe scurt, ceea ce trebuie să faceți este să rulați un script în Powershell (deoamdată pe Windows 8 x64) ce va altera procesul de verificare al certificării aparatelor. Asta înseamnă că veți avea în lista METRO orice aparat compatibil DLNA (dar nu certificat). De cele mai multe ori va merge fără probleme însă e foarte posibil să apară erori de rulare în anumite situații.
Operația în sine constă în descărcarea pachetului playto-tools script + dependencies. Apoi rulați Powershell cu drepturi de administraor și intrați în directorul în care ați descărcat pachetul de mai sus. Probabil că va fi nevoie să rulați comanda: Set-ExecutionPolicy unrestricted
.Rulați script-ul . .\playto-tools.ps1 . Notați datele întoarse de Get-MediaRenderers și apoi porniți instalarea folosind datele de identificare a aparatului, similar cu New-Metadata (Get-MediaRenderers | Select -First 1 -exp HardwareID) –Install.
Odată aplicat hack-ul aparatul DLNA ar trebyu să apară în lista.
Baftă!