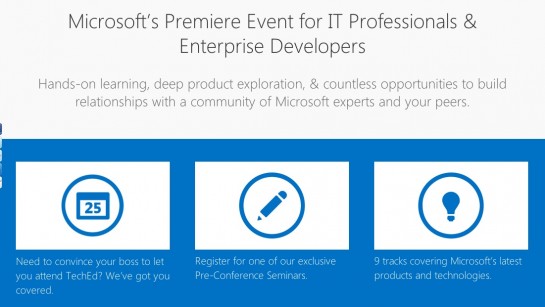 În momentul în care citiți acest articol sunt deja în avion, în drum spre Madrid, unde voi participa la TechEd 2013, cel mai mare eveniment din Europa, dedicat dezvoltatorilor pe platforma
Windows. Este (cred) TechEd-ul cu numărul 5 la care am ocazia să particip. Îl recomand cu căldură ca pe un eveniment dedicat dezvoltatorilor (nu neapărat pe platformă Windows) și o ocazie excelentă pentru socializare și contact direct cu oamenii care creează și folosesc tehnologia de mâine.
Desfășurat în paralel cu BUILD, evenimentul major al Microsoft din acest an, TechEd 2013 va fi modalitatea prin care deszvoltatorii din zona Europei vor putea afla noutăți și detalii suplimentare despre noile tehnologii introduse de Microsoft: Windows 8.1, Windows Azure, Windows Phone.
În cele trei zile ale conferinței o să stau de vorbă cu mai mulți oficiali Microsoft, printre care și Mark Russinovich, Microsoft Technical Fellow in Windows Azure, author of novels Zero Day and Trojan Horse, responsabilul de crearea suitei Sysinternals.
Stați pe aproape pentru a citi noutățile despre Windows 8.1. Și dacă aveți ceva întrebări pentru zona Windows Phone, Windows client , Windows Azure, sau direct pentru Mark, aduceți-le aici și mă ocup eu să le dau mai departe!