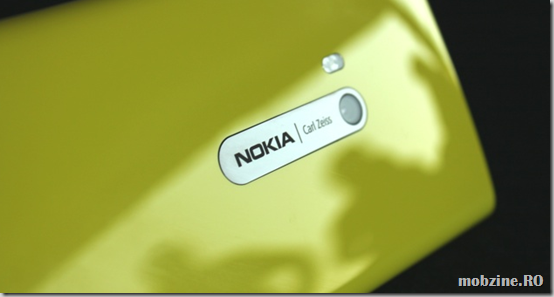 Site-ul polonez nokiawindowsphone.pl ne aduce la cunoștință faptul că are în posesie log-ul update-ului Amber pentru aparatele Nokia Lumia. Multe din informațiile de aici (dacă sunt adevărate) ne sunt deja cunoscute:
Glance Screen Clock Charging indicator / low battery Indicator for silent / vibra mode, night mode (change color for night time). OFF by default.
Smart camera capture the best moment. Accidental remove unwanted objects from the scene. Select the best shot and precise moment. Sequence take a group of images with advanced face, smile and blink detection. The, best 'face for each person is automatically selected into a single, best' shot.
FM Radio Be ready to tune your favorite station – FM Radio is BACK! Store your favorite stations for the next time.
HERE branding Location & Commerce

Here Maps v3.4 Your compass is a discovery What's New: Increased venue map coverage Favorites saved in HERE Maps now sync across all HERE experiences Personalized Live Tile options: Pin and Pin destination to start a place to start as favorite Pin Pin to start a place category to start
Here Drive + v2.2 The open road made ??easy What's New: Sync favorite places with other apps HERE and here.com Customize your map to display relevant points of interest, dry as restaurants, gas stations, and more one-tap access to speed limit Alert options right from the dashboard Personalized Live Tile options: Pin to Start a destination (one tap gives driving directions to That destination)
Here Transit v3.5 Now arriving: the best way across town What's New: Access your favorites through your searches Display nearby stations directly on a map opens Transit Maps to display more route options Transit Maps opens to display the battles navigation options Personalized Live Tile: Pin a destination like Home, Work, or School to start (one tap shows public transit routes and times to get there from wherever you are)

Flip to silence Flip the phone to turn it silence.
Datasense Managing your data flow monitor and control data usage Optimally compressing web traffic.

Find your closest hotspot Enriched web services (for operators).
Adică Smart Camera, FM Radio, Data Sense, versiuni noi pentru Here Maps și Here Drive. Plus opțiunea de mute pentru telefon atunci când acesta e întors cu fața în jos. Nu se amintește nimic despre IE, Bluetooth LE, integrarea Skype, Xbox Music, funcții ce ar trebui să vină în update-ul GDR2 de Windows Phone 8, așteptat deja cu interes de toți utilizatorii. În câteva zile expiră perioada de grație acordată de Google (31 iulie) pentru folosirea protocolului Active Sync și noi nu avem încă GDR2, update ce aduce facilitățile alternative de sincronizare a contactelor și calendarului pentru GMAIL.
Gurile rele spun că întârzierea nu se datorează Microsoft ci operatorilor care nu au fost în stare (sau nu au vrut?) să testeze și să valideze update-ul. Rămâne de văzut când îl vom vedea pe aparatele Lumia – azi am citit că undeva pe 15 august ar putea să fie disponibil pentru toate aparatele.
via wmpoweruser