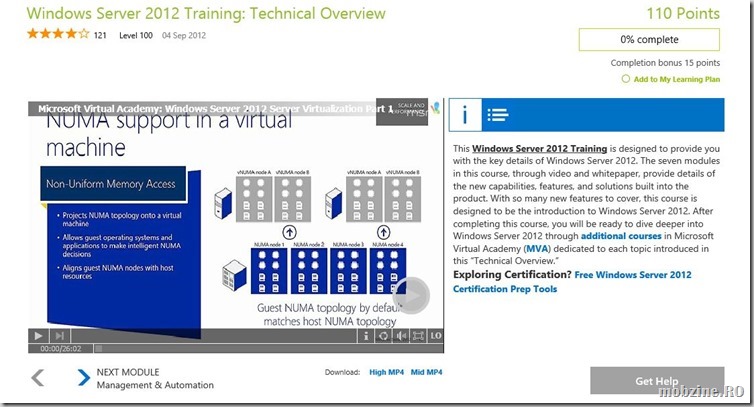 Pe Microsoft Virtual Academy există un set de tutorial evideo despre Windows Server 2012, care încep cu Technical Overview pe care vi-l recomand dacă vreți să aflați mai multe despre cea mai recentă versiune Windows Server. Materialul video introductiv este scurt (cam 26 de minute) și oferă un set de informații de bază despre Windows Server 2012, urmat apoi de alte cinci cursuri video ce împreună au peste 3 ore despre Server Virtualization.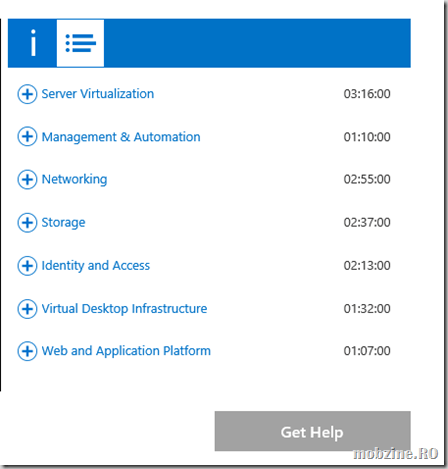 Cine vrea mai mult, poate continua studiul cu Management și Automation, Networking, Storage, Identity and Access, Virtual Desktop Infrastructure, Web and Application Platform urmând ca la finalul fiecărui modul să poată fi făcut un test în care să se verifice informația reținută.
Văd că în momentul de față cursul despre Windows Server 2012 e cel mai accesat din cadrul MVA www.microsoftvirtualacademy.com. E în limba engleză – chestie care nu ar trebui să ridice probleme majore celor ce vor să știe mai multe despre ediția 2012 a Windows Server.
În ideea că vă pasionează subiectul vă recomand să vă faceți timp și să parcurgeți materialele video (eu le descarc offline, le pun pe telefon și le ascult în background în timp ce lucrez – funcționează destul de bine multitaskingul).