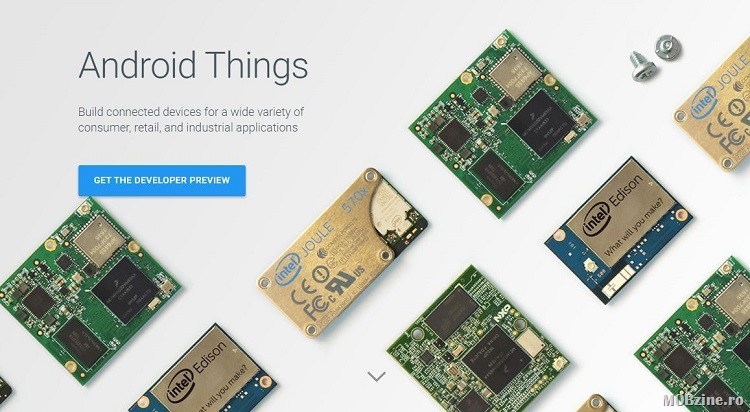 Chiar mă gândeam că Google a acordat surprinzător de puțină atenție zonei IoT, mai ales acum când ea are o explozie uimitoare și pare să fie The Next Big Thing. Lucrul ăsta pare să se schimbe pentru că de curând Google a anunțat versiunea Preview pentru Android Things, sistemul de operare pentru aparatele Internet of Things (IoT) construit pe Android.
Deja entuziaștii l-au luat la testare și avem un material video despre cum funcționează:
Sistemul de operare Android Things e construit să funcționeze pe resurse mai scăzute și să ofere arhitectura Android pasionaților ce vor să scrie cod pentru smart devices, în care să se folosească de API-urile Android și serviciile Google deja existente. La fel ca Raspbian, Windows 10 for IoT și Android Things e construit să funcționeze pe camere de securitate, boxe conectate, router-e și alte tipuri de aparate din zona IoT.
Android Things e de fapt o versiune rebranduită a Google Brillo, prima variantă de Android for IoT anunțată de Google în 2015, doar că acum are suportul Android Studio, Android Software Development Kit, Google Play Services și Google Cloud Platform.
La fel ca pe smartphone-urile Android, Android Things va putea fi actualizat folosind mecanismul OTA (Overt The Air) prin care dezvoltatorii vor putea să trimită actualizări de aplicații folosind aceiași infrastructură prin care și Google trimite actualizările de sistem În curând va veni și suportul pentru opțiuni avansate Weave, via Weave Server va fi posibilă înregistrarea, folosirea stărilor, comenzile și propagarea lor plus integrarea cu serviciile Google..
În momentul de față versiunea Preview de Android Things merge pe board-uri Edison, NXP Pico și Raspberry Pi 3, din păcate fără Arduino.
Pentru cei ce au deja experiență cu codul Android și vor să vadă cu ce se mânâncă zona IoT cu Android, pot descăra și folosi Android Things Developer Preview.