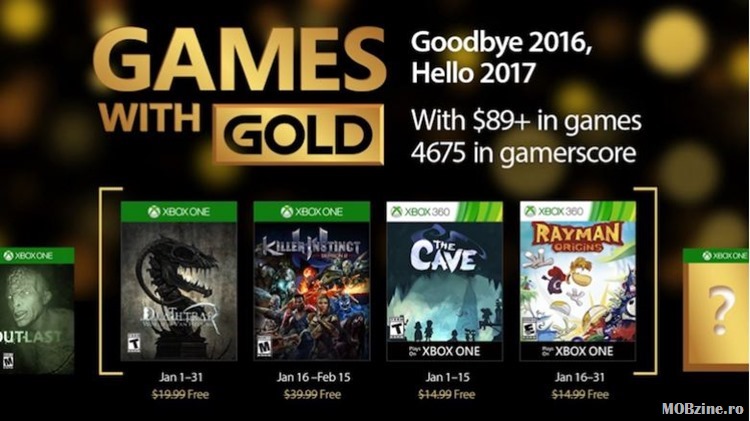 Probabil știți că utilizatorii serviciului Xbox Live Gold pot să descarce lunar unul sau mai multe jocuri Xbox 360 sau One. Până acum au fost oferte interesante care au justificat investiția în serviciul Xbox Live Gold, nu doar pentru a avea acces la server-ele pentru online gaming.
Pentru că se apropie perioada sărbătorilor și poate unii dintre voi au decis să își facă cadou un abonament pe 3/6 sau 12 luni la Xbox Live Gold, vă spun că în perioada următoare o să fie câteva jocuri interesante pentru copii.
În luna ianuarie, pentru Xbox One vor fi World of Van Helsing: Deathtrap și Killer Instinct Season 2 Ultra Edition, în timp ce pentru Xbox 360, vor putea fi descărcate The Cave și Rayman Origins. Jocurile costă ceva (60 USD cele de Xbox One și 30 USD cele de Xbox 360), așa că sună interesant un abonament Xbox Live Gold.
Oferta nu e rea deloc, chiar dacă nu se compară cu ceea ce s-a putut descărca în decembrie:
Mai e ceva din luna asta, așa că dacă vă luați acum un abonament Live Gold aveți șansa să prindeți și jocurile lunii decembrie.
Văzusem că sunt coduri de 3 luni/12 luni pe la emag, Media Galaxy cu preturi de 99/280 de lei.