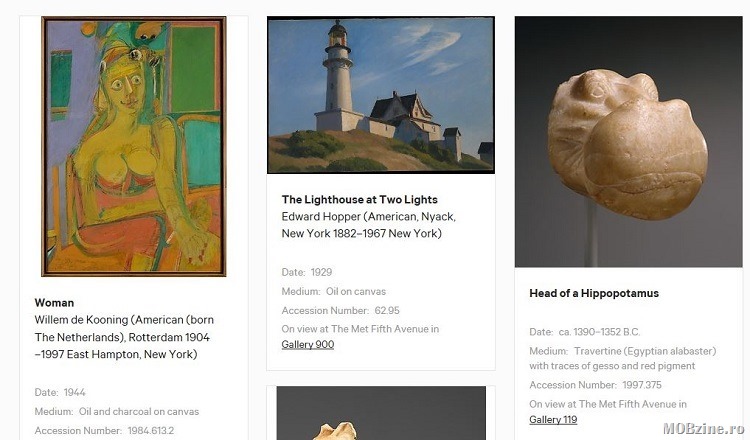 Dacă vă interesează să vedeți/folosiți imagini cu picturi sau opere de artă găzduite de Metropolitan Museum of Art, nu mai e cazul să vă fie teamă că nu aveți drepturile de proprietate intelectuală. Cele aproximativ 375000 de imagini ale operelor de la Metropolitan Museum of Art au devenit public-domain și sunt dispobibile gratuit, pentru folosire nerestricționată.
În mai 2014 muzeul a făcut publice cam 400000 de imagini, dar numai pentru mediul academic sau cel non-comercial. Acum accesul este extins în special datorită colaborării cu Pinterest, Wikimedia, Artstor și Digital Public Library of America. E un pas înainte care ar trebui să servească mai bine popularizării artei în mediul online.
Muzeul are cam 1,5 milioane de opere în total, incluzând aici și tipărituri, gravuri care la un moment dat ar putea dveni și ele public domain.
Acțiunea Metropolitan Museum of Art  nu este singulară, alte muzee precum Rijksmuseum din Amsterdam oferă așa ceva, inclusiv tururi virtuale găzduite de Google.
Imaginile de care vă vorbesc pot să fie accesate/consultate via motorul de căutare CCSearch beta sau direct pe site-ul Met. Când aveți ceva mai mult timp la dispoziție, dați o raită virtuală pe acolo. Veți găsi chestii interesante.