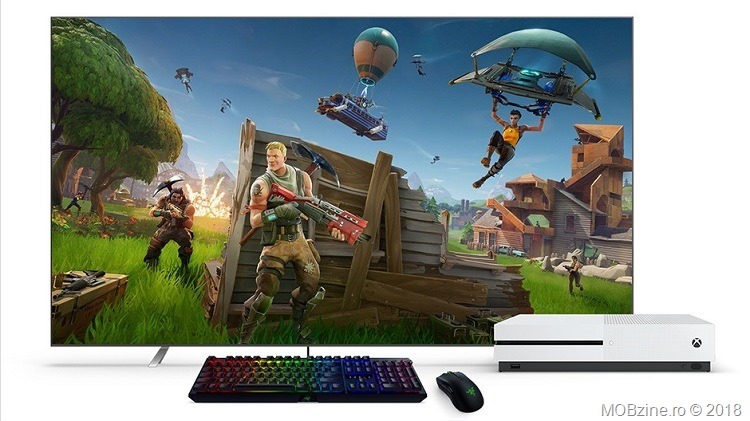 În seara asta a ieșit update-ul November 2018 Xbox Update și odată cu el vin și niște funcționalități noi pentru Xbox One, poate cea ma importantă fiind posibilitatea de a juca anumite titluri folosind maus și tastatură, integrarea cu Amazon Music și opțiune de Search îmbunătățită.
Despre posibilitatea de a juca anumite titluri cu maus și tastatură am scris deja de prin septembrie – odată cu această opțiune dezvoltatorii au posibilitatea de a alege dacă lasă utilizatorii să își folosească sistemul de maus și tastatură pentru control în jocuri pe Xbox One.
Unul dintre primele jocuri ce vor avea această opțiune este Fortnite, jucătorii cu maus și tastatură având opțiune de a se înfrunta între ei, nu și cu cei ce folosesc controller-ul. Mai avem Warframe, Bomber Crew, Deep Rock Galactic, Strange Brigade, Vermintide 2, War Thunder și X-Morph Defense ce vor primi update-uri în această lună și pe viitor Children of Morta, DayZ, Minion Master, Moonlighter, Vigor, Warface, și Wargroove.
Xbox Skill for Cortana și Alexa va permite jucătorilor să folosească mai bine controlul prin voce vizavi de controlul Alexa și al consolei.
Doar pentru SUA (din păcate!) va veni și opțiunea de a folosi Amazon Music pe Xbox One pentru ca la un moment dat aceasta să poată fi folosită și de posesorii de Xbox din afara SUA.
Și nu în ultimul rând, opțiunea de căutare de pe Xbox va putea să ofere rezultate și din zona jocurilor Ready to install (venite ca urmarea a abonamentlui Xbox Game Pass, EA Acceess).
Update-ul nu e foarte mare (undeva la 500 MB) și poate fi instalat rapid. Iar dacă vă încântă ideea de a avea maus și tastatură atunci nu mai pierdeți timpul și instalați-l. Eu am făcut-o deja.
via Xbox