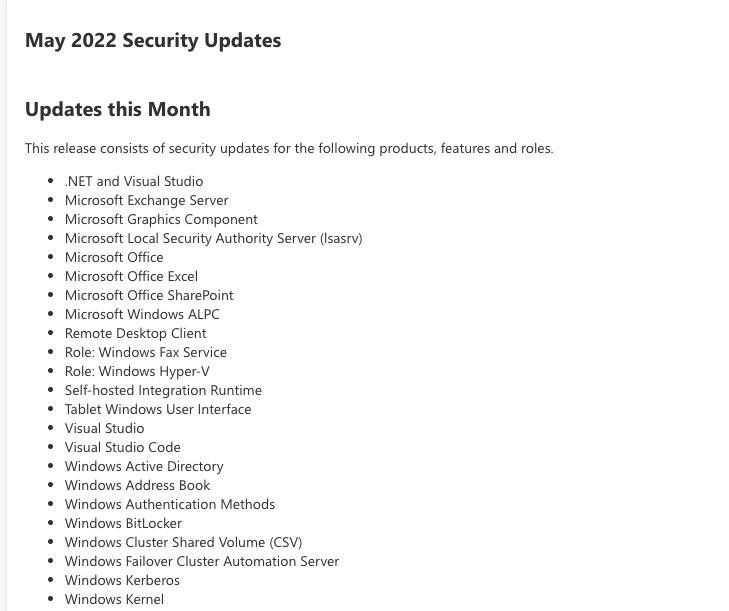 E ziua aia din lună în care utilizatorii de produse Microsoft ar face bine să dea drumul la update-uri pentru a putea a-și putea desfășura activitatea în ceva mai multă siguranță. Setul de patch-uri Microsoft din mai 2022 vine să repare 75 de probleme, dintre care 8 sunt vulnerabilități critice, cu 3 0day!
Mai exact, situația arată cam așa:
21 Elevation of Privilege Vulnerabilities
4 Security Feature Bypass Vulnerabilities
26 Remote Code Execution Vulnerabilities
17 Information Disclosure Vulnerabilities
6 Denial of Service
1 Spoofing Vulnerability
0 Edge – vulnerabilități din Chromium
Poate mult mai important este că dintre cele 8 vulnerabilități critice, 3 erau 0day, din care (din fericire) doar una era deja folosită pentru atacuri – pentru cine nu știe, o vulnerabilitate 0day este aceea pentru care există documentat modul de atac, iar producătorul software-ului afectat nu a apucat să publice un patch înainte de dezvăluirea problemei. Cea despre care se știa că este deja folosită este 'CVE-2022-26925 – Windows LSA Spoofing Vulnerability.'
Acum să vedem ce produse sunt afectate: nu vorbim doar de sistemul de operare Windows (în varianta desktop și server) dar și de alte componente – .NET și Visual Studio, Office, Exchange Server, BitLocker, Remote Desktop Client, NTFS și evident Microsoft Edge.
Cu toate că lista de patch-uri e mare, trebuie să știți că ea e redusă de la cele 100 de vulnerabilități reparate în patch tuesday de aprilie.
Acestea fiind zise, puneți mâna și aplicați rapid update-urile, altfel s-ar putea să vă pară rău!
via Microsoft