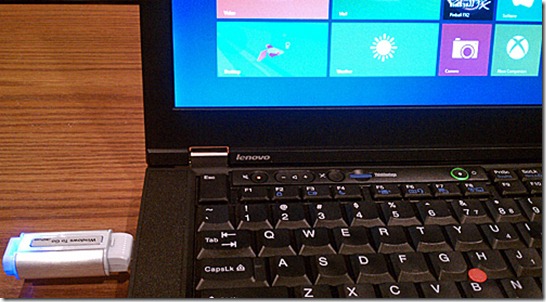 Principalul motiv pentru care am ales să instalez Windows 8 Enterprise în locul versiunii PRO este legat de posibilitatea de a crea un stick boot-abil de Windows 8, cu care să rulez sistemul de operare pe orice PC doresc. Priviți-l ca pe Live CD-ul dat de Microsoft utilizatorilor din zona enterprise.
Doar versiunea Enterprise de Windows 8 are posibilitatea de a crea un stick boot-abil cu Windows 8, pe celelalte fiind imposibil. Ca să puteți avea un Windows To Go e nevoie de un stick USB de 32 GB cel puțin, un kit de instalare de Windows 8 Enterprise și o instalare gata făcută.
De pe sistemul cu Windows 8 Enterprise porniți aplicația Windows To Go, apoi inserați stick-ul USB într-unul din porturi. O să fie șters complet în procesul de creare al kit-ului Windows To Go așa că că sfătuiesc să aveți copii de siguranță pentru fișierele de acolo.
Se face verificarea stick-ului și dacă e ok vi se cere calea către fișierul install.WIM în care e imaginea de Windows. Are aproape 3GB și se regăsește în directorul sources din kit-ul de instalare. După ce e încărcat, se pornește operația de creare a imagini boot-abile în care setările actuale de pe sistem sunt inserate în kit-ul ce va fi pus pe stick. Durează ceva până se termină, așa că nu vă grăbiți.
Când e gata, primiți mesajul de confirmare și puteți face un test: mergeți la orice PC doriți, boot-ați de pe stick și așteptați să se încarce Windows 8. Vă autentificați cu contul de utilizator folosit pe sistemul Windows 8 pe care ați făcut kit-ul. Și … aveți acces la o sesiune similară de Windows.
Interesant nu?
P.S.: Puteți încerca să vă faceți unul propriu dacă descărcați varianta trial de Windows 8 Enterprise și urmați instrucțiunile de mai sus.