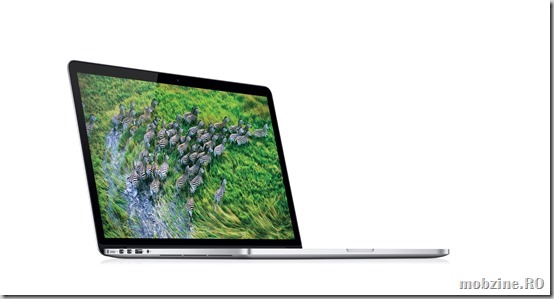 Produsul care mi-a atras cu adevărat atenția după lansarea Apple din 23 octombrie e în mod cert laptop-ul MacBook Pro de 13 inci, cu Retina Display. Și nu pentru că vine cu un procesor dual-core Intel Core i5 la 2,5 GHz, sau cei 8 GB RAM preinstalați. E vorba despre faptul că e un laptop de 13 inci foarte bine desenat, ce cântărește 1,62 Kg, cu aproape 300 g mai greu decât actualul meu MacBook Air și care oferă în schimb o viteză de procesare aproape dublă.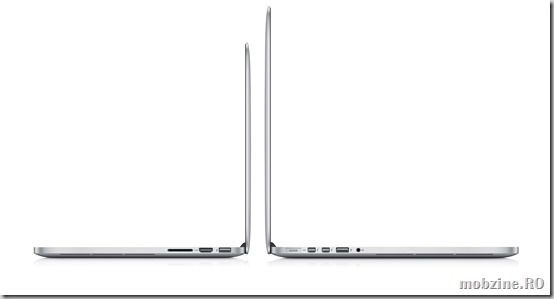 Are și Retina Display o importanță clară, nu neg. 2560 x 1600 de pixeli pentru un display de 13 inci dau o claritate a imaginii deosebit de bună – sunt curios cum merge Windows 8 pus pe MacBook Pro Retina.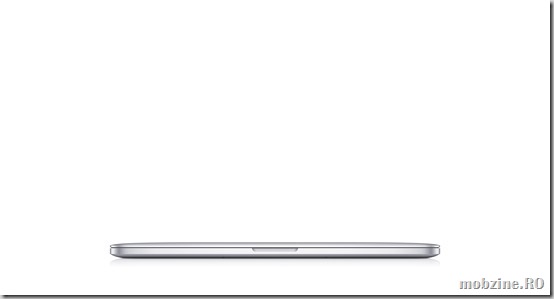 Și ar mai fi seria de conectori, aproape completă care sunt un plus important față de MacBook Air. În momentul de față, dacă ar fi să schimb MBA-ul, cu MacBook Pro 13 inci Retina al face-o!
Specificațiile tehnice:
Display: Retina display: 13.3-inch (diagonală) LED-backlit display cu tehnologie IPS, rezoluție de 2560 x 1600 pixeli cu 227 ppi densitate.
CPU: 2.5GHz dual-core Intel Core i5 processor (Turbo Boost up to 3.1GHz) cu 3MB shared L3 cache
RAM: 8GB of 1600MHz DDR3L onboard memory
Dimensiuni/greutate:
Height: 1.9 cm
Width: 31.4 cm
Depth: 21.9 cm
Weight: (1.62 kg
Video: Intel HD Graphics 4000 și NVIDIA GeForce GT 650M cu 1GB GDDR5
Cameră web: 720p FaceTime HD camera
Conectori:
MagSafe 2 power port
Două porturi Thunderbolt(up to 10 Gbps)
Două porturi USB 3 (up to 5 Gbps)
HDMI port
Headphone port
Wireless: 802.11n Wi-Fi wireless networking;3 IEEE 802.11a/b/g compatible; Bluetooth 4.0 wireless technology
Audio: Stereo speakers, Dual microphones, Headphone port
Autonomie: până la 7 ore browsing.
via Apple