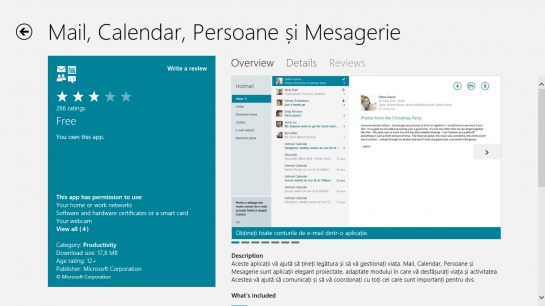 După update-ul premergător lansării oficiale a Windows 8 se pare că mai multe aplicații principale au început să aibă probleme. Clientul Mail este afectat serios, crash-urile și restarturile fiind foarte frecvente, alături de imposibilitatea de a folosi adresele de email din People.
Microsoft știe despre problemă și are în lucru un update.
Thank you for trying the Mail App update and reporting this issue. We recently became aware of this problem and the approriate people are currently looking into it.
Rezolvarea pe care o propune Microsoft are în vedere repornirea sistemului (hahaha) respective trimiterea de mesaje din hub-ul People și nu direct din Mail. Sau, se propune dezinstalarea și reinstalarea suitei Mail/Calendar/People la versiunea 16.4.4391.1005.
Inconsistențele ce apar pot fi legate de faptul că Microsoft nu permite încă review-uri oficiale pe mașini Windows 8 sau Windows RT dintr-un singur motiv : Windows 8 nu e gata?