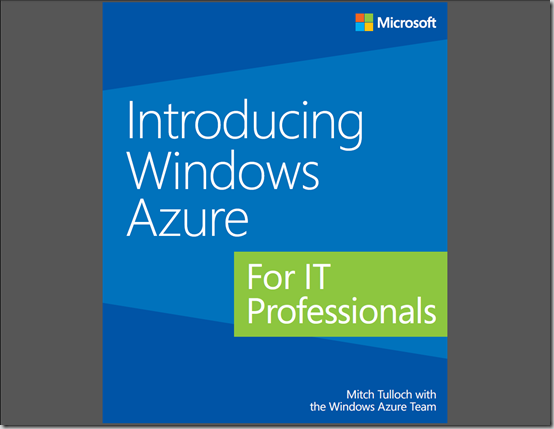 Vă invit să descărcaţi rapid cartea "Introducing Windows Azure for IT Professionals" oferită gratuit pentru download de către Microsoft Press zilele acestea. Tratează cam toate aspectele ce trebuie să fie cunoscute de cineva ce vrea să afle ce este Windows Azure.
Îmi place cum începe: ce este Windows Azure?
If you ask, "What is Windows Azure?" the best answer might simply be this:
Windows Azure can be anything you want it to be.
As a cloud platform from Microsoft that provides a wide range of different services, Windows Azure lets you build, deploy, and manage solutions for almost any purpose you can imagine. In other words, Windows Azure is a world of unlimited possibilities.
Whether you're a large enterprise spanning several continents that needs to run server workloads, or a small business that wants a website that has a global presence, Windows Azure can provide a platform for building applications that can leverage the cloud to meet the needs of your business.
That's a pretty big assertion to make. How can we know it's true?
Pe scurt, Windows Azure e cam tot ceea ce aveţi nevoie :). Platforma cloud ce oferă o gamă variată de de servicii cu care se pot crea, instala şi administra proiectele. Cartea are 142 de pagini, e relativ uşor de parcurs.
După ce o veţi citi o să aveţi cunoştinţele minimale pentru a începe să lucraţi cu Windows Azure. Apropo de asta, Windows Azure se poate testa gratuit timp de o lună de către oricine e interesat.