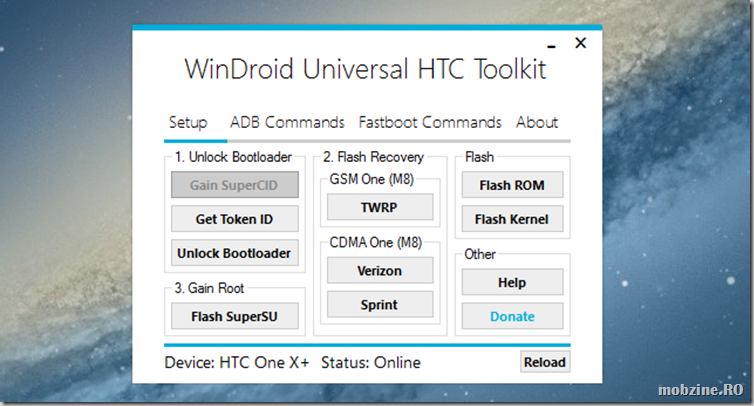 Se știe că smartphone-urile produse de HTC sunt unele dintre cele mai versatile de pe piață și că entuziaștii au reușit să facă lucruri deosebite cu ele, de la aducerea în mod constant a celei mai noi versiuni de Android și până la instalarea unor sisteme de operare terțe. Probabil că din cauza asta HTC are o semnificație aparte pentru mulți entuziaști (ca mine) ce abia așteptau să apară ceva nou ca să fie rapid instalat: un ROM, o aplicație nouă, un hack, etc. Dincolo de simplul pentru că se poate, există și un motiv foarte bun să faceți și voi așa ceva: vă puteți instala pe telefoane exact acele combinații de aplicații, skin-uri, interfețe grafice care vă reprezintă și vă fac folosirea mai ușoară.
Sau poate că aveți nevoie de un anumit tweak în sistemul de operare pentru ca telefonul să fie mai rapid sau să se integreze cu un anumit serviciu pe care HTC nu l-a considerat demn de integrare directă.
Iată că pentru toți cei ce încă vor să simtă că pot să exploreze la maxim limitele hardware-ului HTC a apărut un instrument care să le facă viața mai ușoară: WinDroid HTC Toolkit. Este vorba despre un instrument automatizat care e capabil să lucreze cu un număr mare de aparate HTC, oferind posibilități de root, unlock și flash de ROM-uri noi. Modelele de HTC cu care funcționează sunt:
– Amaze 4G
– Desire HD (International and AT&T Variants)
– Desire X
– Droid DNA
– EVO 4G LTE
– One (M7) (All Carriers)
– One (M8) (All Carriers) (Verizon M8 cannot be unlocked at this time)
– One S (S3 and S4 Variants)
– One V (GSM and CDMA Variants)
– One X
– One XL
– One X+ (International and AT&T Variants)
Soluția este rezultatul muncii lui WindyCityRockr, mebru pe forumul XDA Developers care pune practic la dispoziția oricui un instrument rapid cu care să facă ce dorește cu al său smartphone HTC. Când zic ce dorește mă refer la opțiunile de modificare de kernel, instalare de ROM, extragere de fișiere, deblocare bootloader etc.
Ați observat că în listă sunt cele mai noi versiuni de smartphone-uri HTC, da? E bine să știți că soluția e relativ simplu de folosit, dar mereu există riscul ca ceva să meargă prost și să vă alegeți cu un aparat stricat. Oricum, deblocarea lui și instalarea de software terț înseamnă automat și pierderea garanției – țineți minte asta.
Cred că deja v-am trezit interesul. Cred că e momentul să descărcați WinDroid de aici și să vă puneți pe treabă!