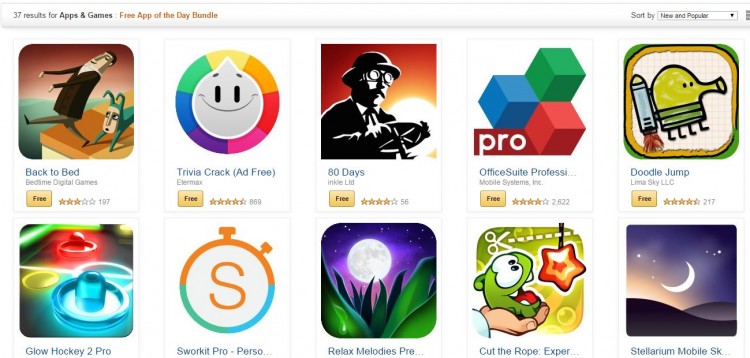 Se pare că Amazon vrea să impresioneze zilele astea şi ca urmare face nişte oferte foarte faine: cea mai nouă, un pachet de aplicaţii premium Android, în valoare de 140 USD poate fi descărcat gratuit. Printre aplicaţii se numără Runtastic, Battery HD Pro, Cut the Rope. Shazam, Simple camera.
Dacă aveţi conturi de Amazon Appstore şi ele pot fi folosite, atunci daţi-i drumul la download şi descărcaţi rapid aplicaţiile că merită. Nu ştiu cât o să dureze promoţia.
Link-ul unde puteţi găsi pachetul este aici.
Lista completă a aplicaţiilor:
80 Days
Back to Bed
Bag It!
Battery HD Pro
Buy Me a Pie! Grocery List
Caveman Feast Recipes
Cut the Rope: Experiments
Delicious – Emily's True Love
DoggCatcher Podcast
Doodle Jump
Food Subsitutes
Glow Hockey 2 Pro
Guitar Pro
Hidden Object
Listure
Longman Dictionary of Contemporary English
MeteoEarth
Monsters Ate My Condo
mSecure
OfficeSuite Professional 8
Pocket Yoga
Relax Melodies Premium Ambiance Meditation
Runtastic Pro
Scientific Financial Calculator
Shazam Encore
Simple Camera
Ski Safari: Adventure
Sleep as Android
Smart RAM Booster
SmoothSync Cloud Calendar
Sorcery! 2
Speed Reading
Stellarium Mobile Sky
Sworkit Pro
Travel Interpreter
Trivia Crack
Tunable
Baftă!
via BGR