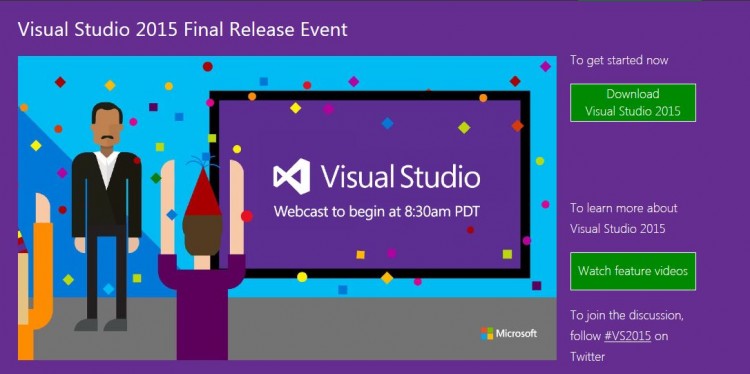 Astăzi e ziua în care se lansează oficial Visual Studio 2015 și cu ocazia asta Microsoft face un eveniment mondial de lansare, online, cu participare gratuită. Dacă vă interesează să aflați ce e nou și care e strategia pentru Visual Studio 2015 vă invit să vă înregistrați la "Visual Studio 2015 Final Release Event" și să îl urmăriți începând cu ora 18:30 (08:30 PDT) a României. Stream-ul live se poate vedea aici.
Agenda lansării este:
8:30 – 10:15
Keynote: Visual Studio 2015 – Any app, Any developer
Speakers: Soma, Beth Massi, Scott Hanselman, Brian Harry, Amanda Silver
10:15 – 10:35
In the Code – App Overview and planning
10:35 – 10:55
Live Q&A (Agile Planning and DevOps)
Host: Seth Juarez
Guests: Donovan Brown, Richard Campbell
10:55 – 11:10
In the Code – Building the web site in the cloud
11:10 – 11:30
Live Q&A (ASP.NET and Azure Development)
Host: Seth Juarez
Guests: Brady Gaster, Jeff Fritz
11:30 – 11:45
In the Code – Building the cross-platform mobile app
11:45 – 12:05
Live Q&A (Cross-Platform Mobile Development)
Host: Seth Juarez
Guests: Ryan Salva, Kirupa Chinnathambi
12:05 – 12:20
In the Code – Getting it to the finish line
12:20 – 12:40
Live Q&A (Testing, User Experience, and Accessibility)
Guests: Charles Sterling, Travis Lowdermilk
Și pentru o analiză în detaliu a noii platforme Visual Studio 2015 puteți urmări materialele video de aici.