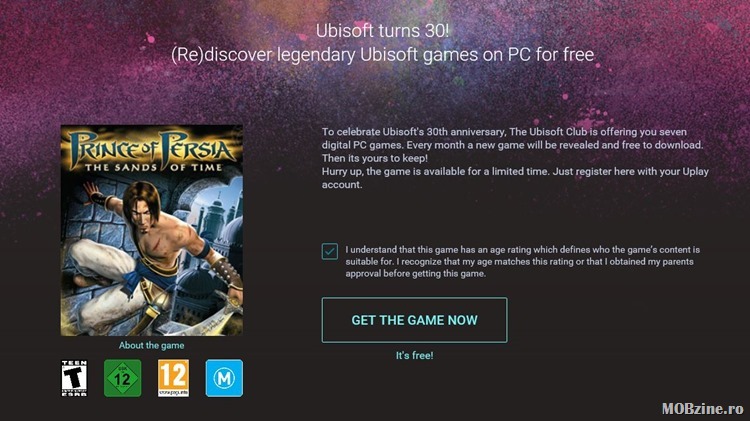 Unul dintre cele mai faine jocuri clasice de PC este oferit acum gratuit de către Ubisoft la aniversarea a 30 de ani de existență. Prince of Persia: The Sands of Time, lansat în 2003 pentru PC, PlayStation, Xbox și GameCube a fost probabil cea mai reușită relansare a francizei Prince (e cineva care își aduce aminte de Prince de DOS?). Acum acest joc este oferit gratuit pentru download pe PC de către Ubisoft urmând ca în lunile următoare să vină și alte titluri interesante.
Poate că unii dintre voi nu vor gusta acest joc, însă sunt sigur că vor fi și persoane care să retrăiască atmosfera fantastică oferită de joc, acum mai bine de 10 ani.
Ca să îl descărcați este însă nevoie să vă înscrieți în Ubisoft Club (înscrierea e gratuită) și apoi să îl descărcați cu Uplay. Iar în ideea că în perioada următoare vor mai veni și alte jocuri, nu văd de ce ar fi asta o problemă.
Descărcați-l de aici și spor la joacă!