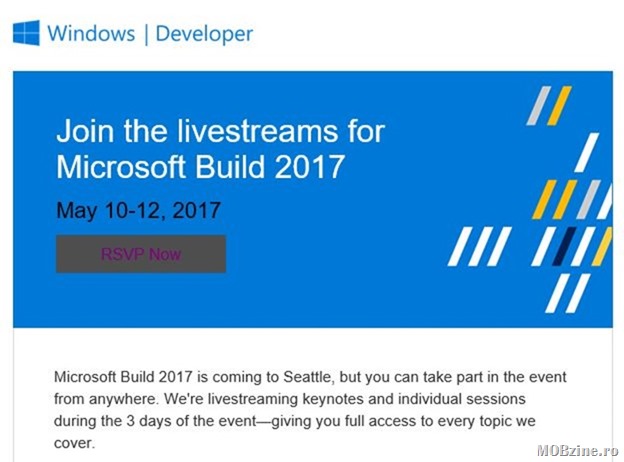 Sesiunile și keynote-urile de la conerința BUILD 2017 vor fi transmise live și vor putea să fie urmărite de către cei interesați – asta ca să nu vă pară rău că nu ați avut posibilitatea de a face deplasarea la conferință. Microsoft a trimis deja un set de email-uri către developerii înregistrați în Windows Developer oferindu-le posibilitatea de a-și rezerva un loc pentru transmisia live.
"Microsoft Build 2017 is coming to Seattle, but you can take part in the event from anywhere. We're livestreaming keynotes and individual sessions during the 3 days of the event—giving you full access to every topic we cover.
Watch live or on-demand to explore the future of UI, inking, mixed reality, Windows app distribution, and more exciting news for Windows developers. Be the first to hear breaking announcements and attend technical sessions."
Încă nu îmi e clar dacă sesiunile vor putea fi urmărite live doar de către cei înregistrați sau, la momentul respectiv, oricine va putea urmări prezentările.
Ca să nu risc, mi-am făcut înregistrarea pentru că BUILD-ul de anula ăsta o să fie deosebit de interesant. Deja pe primul loc sunt sesiunile de Windows Cloud.
Mai multe detalii găsiți aici: https://developer.microsoft.com/en-us/windows/projects/events/build/2017