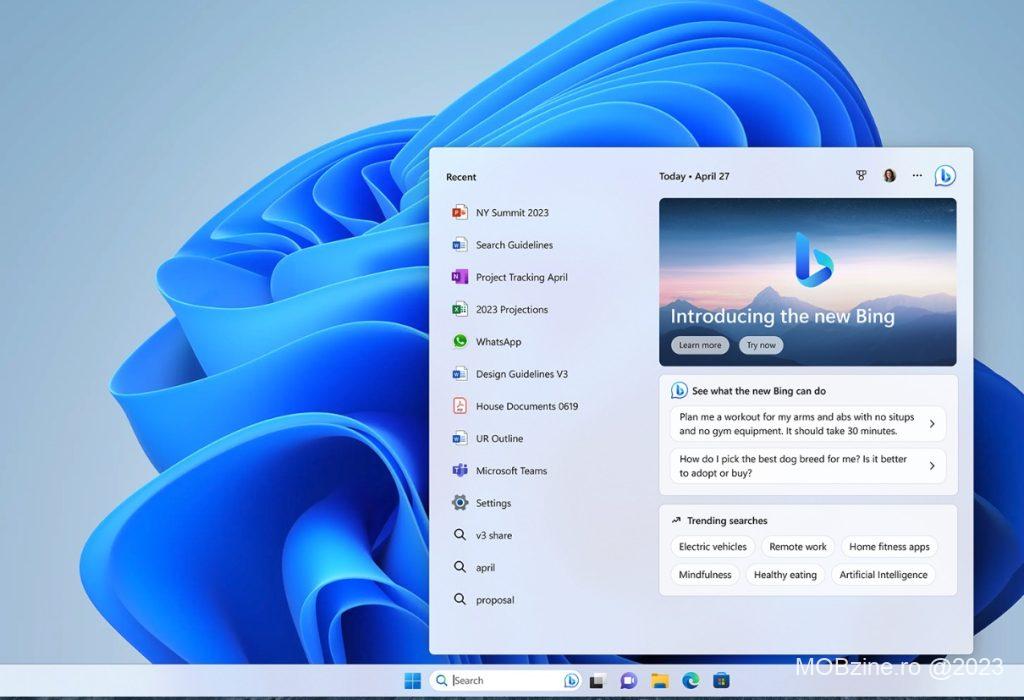 Zilele trecute Microsoft a lansat prima actualizare majoră din 2023 pentru Windows 11 în care sunt introduse elemente noi, menite să extindă și să îmbunătățească experiența de utilizare. Această actualizare va ajunge gradual pe sistemele utilizatorilor odată cu patch-ul de securitate din 14 martie 2023.
Printre chestiile majore ce pot fi observate după aplicarea actualizării se numără introducerea Bing Chat în Taskbar, o nouă interfață Teams (o altă chestie cu care să vă luptați!), widget-uri full screen, Notepad cu tab-uri (o chestie utilă pentru unii dintre noi) iar în perioada următoare o să vedem și funcția Phone Link for iOS.
După cum se poate vedea în imaginea de mai sus, în fereastra de căutare din Taskbar apar icon-ul Bing Chat care duce direct la bot-ul de chat, doar pentru cei ce sunt în programul de testare.
Am înțeles că în zona de business, sistemele care vor aplica actualizarea Windows 11 2023 vor putea beneficia de funcții de AI în zona Start, unde fișierele din Active Directory apar dinamic.
Lista completă de noutăți este aici:
Bing Chat in Windows Search
New search bar options for the Taskbar
Touch-optimized Taskbar for tablets and 2-in-1 devices
Modernized Taskbar system tray overflow menu
Phone Link for iOS (preview)
Tabs in Notepad
Screen recording in Snipping Tool
Search in Task Manager
Energy recommendations in Settings
Voice access improvements
Redesigned Quick Assist app
Full-screen Widgets panel with third-party widget support
AI powered file recommendations in Start for AAD joined devices
Windows Studio Effects in Quick Settings
Iar dacă vreți să vedeți ce și cum, dați drumul la Windows Update din Settings și instalați pachetul disponibil. Pentru că abia am venit de la Mobile World Congress din Barcelona, nu am apucat să îl instalez încă. Diseară încerc și să mai spun chestii pe care le voi observa.
via Microsoft