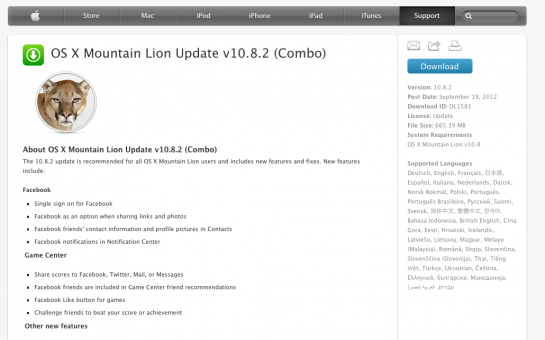 Odată cu lansarea iOS 6 Apple a dat drumul și update-ului 10.8.2 pentru Mac OS Mountain Lion. Vine cu foarte multe schimbări, în majoritate necesare pentru echilibrarea experienței de lucru din iOS 6 și varianta de desktop a sistemului de operare produs de Apple.
În primul rând avem integrarea Facebook ce vine să o completeze pe cea Twitter din Mac OS Mountain Lion. Urmează apoi update pentru Game Center (tot cu elementele de integrare Facebook), Passbook , PowerNap pentru modelele din 2010 de MacBook Air. Sunt speculații că noul update rezolvă și probleme de autonomie remarcate de mulți utilizatori după migrarea către Mountain Lion.
Oficial, Apple anunță:
Facebook

Single sign on for Facebook
Facebook as an option when sharing links and photos
Facebook friends' contact information and profile pictures in Contacts
Facebook notifications in Notification Center

Game Center

Share scores to Facebook, Twitter, Mail, or Messages
Facebook friends are included in Game Center friend recommendations
Facebook Like button for games
Challenge friends to beat your score or achievement

Other new features

Power Nap support for MacBook Air (Late 2010)
iMessages sent to your phone number now appear in Messages on your Mac
From Safari and Mail on your Mac you can add passes to Passbook on your iPhone or iPod touch running iOS 6
New shared Reminders lists
FaceTime now receives calls sent to your phone number
New sort options allow you to sort notes by title, the date you edited them, and when you created them
Dictation now supports Mandarin, Cantonese, Spanish, Korean, Canadian English, Canadian French, and Italian
The Dictionary application now includes a French definition dictionary
Sina Weibo profile photos can now be added to Contacts

The 10.8.2 update also includes general operating system fixes that improve the stability, compatibility and security of your Mac, including the following fixes:

An option to discard the changes in the original document when choosing Save As
Unsent drafts are opened automatically when launching Mail
Receive Twitter notifications for mentions and replies from anyone
URLs are shortened when sending tweets from Notification Center
Notifications are disabled when AirPlay Mirroring is being used
SSL support for Google searches from the Smart Search Field in Safari
New preference to have Safari launch with previously open webpages
Update-ul vine prin AppStore sau poate fi descărcat manual de aici.