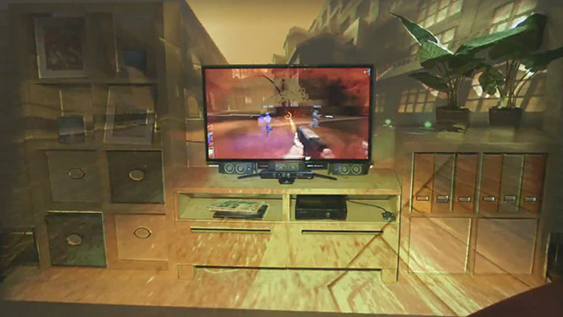 Cei de la Microsoft au facut ceva vâlvă cu noula lor tehnologie IllumiRoom, care va îmbunătăți fără îndoială experiența gaming-ului într-un mod considerabil. Acest lucru este posibil extinzând ambianța vizuală din joc și în afara ecranului televizorului, și folosind în acest scop orice suprafață din camera jucătorului.
Tehnologia funcționează cu ajutorul unei console Kinekt, folosind camerele acesteia pentru a mapa mediul înconjurător, pe care îl folosește ulterior ca suport pentru proiecții realizate cu ajutorul unui proiector, în încercarea de a face cât mai puțin detectabile granițele dintre lumea reală și cea virtuală.
Prea multe detalii nu sunt oferite nici pe forumul celor de la Microsoft Research, așa că o sa redăm întocmai cuvintele lor.
"IllumiRoom uses a Kinect for Windows camera and a projector to blur the lines between on-screen content and the environment we live in allowing us to combine our virtual and physical worlds. For example, our system can change the appearance of the room, induce apparent motion, extend the field of view, and enable entirely new game experiences.
Our system uses the appearance and the geometry of the room (captured by Kinect) to adapt the projected visuals in real-time without any need to custom pre-process the graphics. What you see in the videos below has been captured live and is not the result of any special effects added in post production."
Și pentru că "o imagine face cât o mie de cuvinte", aici puteți urmări și un clip demonstrativ cu noua tehnologie Microsoft IllumiRoom. Arată demențial! Sperăm să avem în curând și detalii de natură comercială despre această tehnologie, pentru că va fi cu siguranță așteptată cu sufetul la gură de mulți gameri.