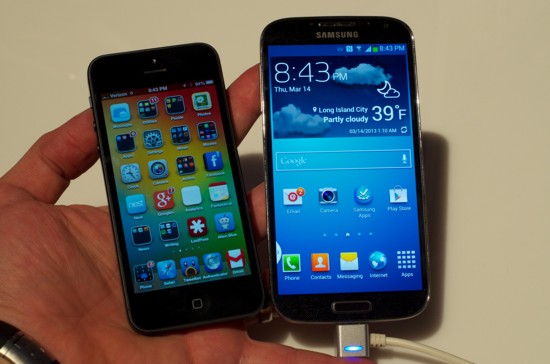 Despre războiul dintre Apple și Samsung am tot vorbit în ultima vreme. Este dus pe atâtea planuri încât le-am pierdut șirul. Din aceeași categorie, avem o nouă bătălie. De această dată, frontul de lupta se duce pe Twitter.
S-au gândit cei de la Investing Analytics să numere toate referințele către Samsung Galaxy S4 și respectiv iPhone 5 din momentele lansărilor celor două aparate. Și să obțină victoria zdrobitoare pentru cei de la Apple, care cu 2,4 tweet-uri au fost menționați de 5 ori și ceva mai mult decât Samsung, care are doar 440.000 de referiri în tweet-urile utilizatorilor. Am văzut cam cum este să scoți datele din context, mai devreme puțin, când unul dintre oamenii de PR de la Microsoft ne-a lăsat mască atunci când ne-a spus că Windows Phone a depășit iPhone la vânzări. Astfel că cei de la Apple au preluat probabil ideea din zbor și au întors-o împotriva inamicului numărul unu.
Cei de la Cnet au preluat mingea ridicată la fileu de aceste cifre, arătându-și dibăcia încă din titlu. Și pentru ca tăvălugul să fie complet, l-au chestionat pe mai vechiul nostru amic, analistul Gene Munster, care știe cel mai bine care sunt planurile Apple pe următorul cincinal:
"We believe a Twitter analysis of tweets about the iPhone 5 launch compared to the Galaxy S4 launch demonstrates that the iPhone continues to hold more mass appeal with consumers."
Eu încă mai aștept o comparație obiectivă strict între cele două telefoane, pentru că până la urmă acolo se vede cine este mai bun. La cum merg lucrurile, mai ales în partea cu "obiectivul", probabil că mai am puțin de așteptat. Cu puțin noroc, poate o să reușim la un moment dat, să avem chiar aici un comparativ obiectiv între produsele celor doi mari rivali.
via Cnet