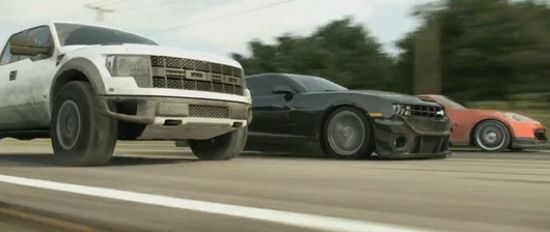 Zvonurile anterioare, conform cărora Ubisoft ar plănui un nou joc de curse numit The Crew, ce ar fi un succesor spiritual pentru Test Drive produs de Ivory tower, s-au adeverit, pe jumătate. Nu este un succesor spiritual pentru Test Drive, ci mai mult o adaptare a lui Furios și Iute, din moment ce premisa sa este că vei face lucruri predominant ilegale, nu doar curse, ci și jafuri.
Mai important, este un MMO, sau cel puțin se va comporta ca unul, jucătorii fiind capabili să formeze echipe pentru a participa atât la misiuni cooperative, cât și la dueluri cu echipe adverse. Însă cei care vor să joace de unii singuri au această posibilitate, având la dispoziție întreaga SUA continentală ca teren de joacă. The Crew se desfășoară pe o versiune la scară a hărții, amintind de Fuel, compusă din orașe, dealuri, văi, canioane, munți, și cam toate elementele de relief relevante.
Vă veți putea plimba peste tot, deoarece mașinile nu sunt blocate pe drumuri, pur și simplu cele care merg mai bine pe drumuri vor merge mai bine pe drumuri, până când sunt dezmembrate și alterate pentru tot-teren, prin sistemul de modificare a jocului ce permite personalizarea în detaliu a fiecărei componente a unei mașini.
The Crew va fi lansat pe la începutul anului 2014 pentru PC, Xbox One și PS4.
Adio NFS!
Material preluat de pe www.games-arena.ro