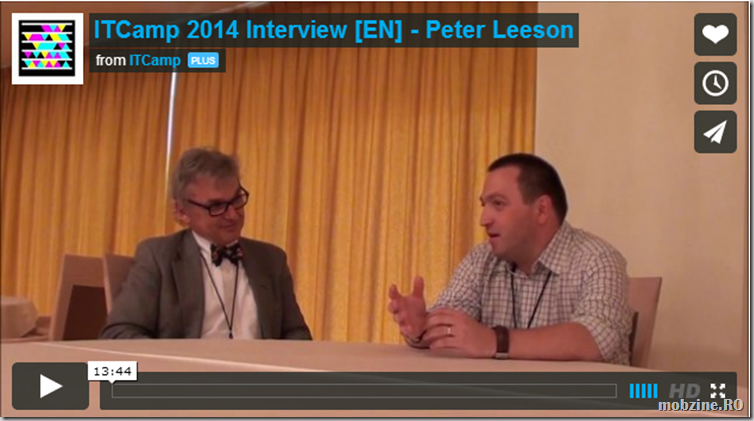 Am fost destul de norocos să îl prind pe Peter Leeson (un om cu o experiență de peste 40 de ani în industria de software, focusat pe calitate, satisfacția la locul de muncă) pentru un interviu mai deosebit, în care am discutat despre România ca și Silicon Valley e Europei, după cum o vede dânsul. S-a întâmplat la IT Camp 2014, după ce ambele prezentări ale domnului Leeson (Management of Fear și Battle for Success) m-au intrigat pentru că a spus pe nume unor lucruri despre care multe din firmele de IT din România refuză să o facă.
Suntem o țară cu maxim potențial în zona de IT și (încă) oferim calitate la un preț corect. Treaba asta nu va mai dura mult și dacă nu se iau măsuri rapide de conștientizare și pe undeva de remediere a unor probleme ce încep să apară, o să avem foarte mult de pierdut. Pentru asta e nevoie de implicarea marilor firme de IT, a guvernului și a sistemului educațional.
Ascultați ce are de zis domnul Leeson.
ITCamp 2014 Interview [EN] – Peter Leeson from ITCamp on Vimeo.
Celelalte interviuri realizate la IT Camp 2014 cu Mihai Tătăran, Tudy Damian, Valy Greavu și Alex Mang pot fi urmărite aici.
Acum vă mai sfătuiesc să urmăriți prezentarea de mai jos, Management of Fear, susținută de Peter Leeson la IT Camp 2014:
ITCamp 2014 – Management of Fear (Peter Leeson) from ITCamp on Vimeo.