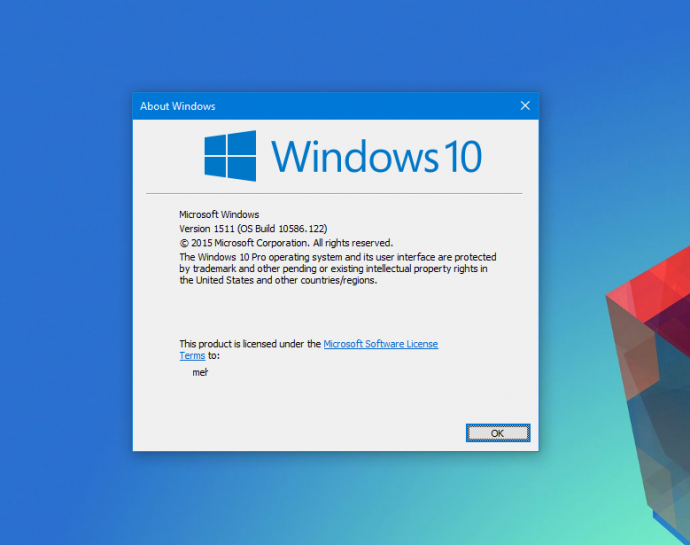 In seara aceasta Microsoft a lansat Windows 10 Build 10586.122 catre toti utilizatorii de Windows 10 pe PC. Face parte din seria patch tuesday si poate fi pus prin sistemul automat de update. In principiu este vorba despre un set de update-uri comasate in Windows 10 Build 10586.122 si care contin o gramada de bugfix-uri si imbunatatiri pentru performanta.
Pentru moment Microsoft nu mai aduce functii noi in sistemul de operare, se concentreaza pe finisarea lui.
Schimbarile aduse sunt:
stabilitate. Per ansamblu noul Windows va functiona mai bine. De la Windows Update, startup, instalare si configurare, autentificare, resuming from hibernation, shutdown, kernel, Start menu, storage, Windows Hello, display modes, Miracast, AppLocker, Internet Explorer 11, Microsoft Edge browser, network connectivity and discovery, si File Explorer.
performanta mai buna pentru humbnail generation, NetLogon, Windows Store, si consum de curent in standby.
conectivitate mai buna cu o serie de dispozitive noi din zona wearable, display, imprimante
anumite asocieri de fisiere sunt resetate la valorile standard atunci cand apar erori
bara favorite nu mai dispare dupa update-uri nereusite
imbunatatiri legate de folosirea Cortana pentru traduceri in IE
suport mai bun pentru aplicatii, fonturi, grafica si display, airplane mode, Group Policy, PowerShell MDM, Windows Journal, Microsoft Edge, printing, touch display, roaming credentials, Push-Button Reset, Windows UX, local and streaming video, audio quality, error reporting, USMT,si crearea de VHD-uri.
Din ce citesc acest update aduce suficiente de multe bugfix-uri si imbunatatiri legate de performanta ca sa merite sa fie instalat. Asa ca nu mai pierdeti vremea si dati-i drumul la udpdate.