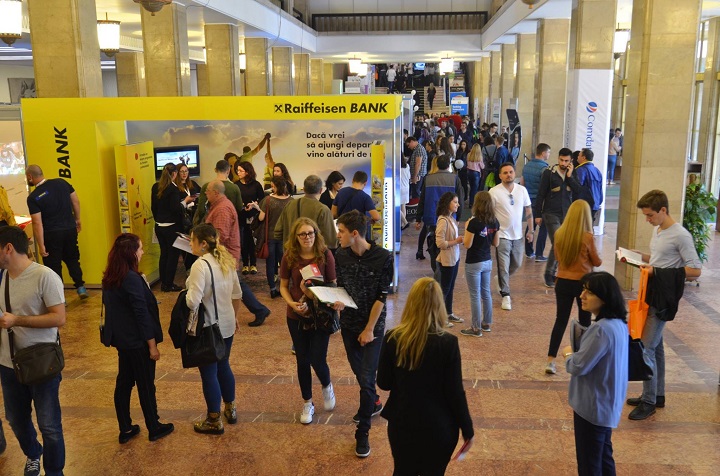 Săptămâna aceasta, vineri și sâmbătă, pe 23-24 martie la Sala Palatului, are loc Angajatori de TOP Bucuresti 2018, cel mai mare eveniment de carieră. Ediția cu numarul 24 va reuni 130 de companii şi peste 6000 de oportunităţi de carieră.
Cei care sunt în căutarea unui job se pot înscrie gratuit pe https://www.hipo.ro/locuri-de-munca/angajatoridetop/bucuresti şi pot participa la eveniment în baza CV-ului tip BarCode pe care îl pot descărca din contul lor de pe www.hipo.ro Accesul la eveniment este gratuit şi va fi permis vineri, 23 martie, în intervalul 10.00-18.00 şi sâmbătă, 24 martie, în intervalul 10.00-17.00, la Sala Palatului.
Ediția aceasta cei care sunt in cautarea unui job au câteva motive întemeiate să participe la eveniment:
Dimensiunea evenimentului: numărul și diversitatea companiilor prezente. 130 de companii cu planuri de recrutare în domenii de activitate diverse de la IT & Telecom, Servicii și BPO, Finanțe-Bănci, FMCG, Retail, Inginerie & Automotive, Logistică, Audit & Taxe, Marketing vor fi prezente la Angajatori de TOP București 2018.
Peste 6000 de joburi pentru toate nivelurile de experiență;
Sesiuni de dezvoltare profesională și personală: peste 35 de workshopuri și conferințe.  În funcție de aria de interes, cei care vor participa la eveniment pot alege dintr-o multitudine de tematici, susținute de traineri din companii, manageri de departamente sau chiar CEO. Câteva dintre subiectele abordate sunt: Unbottle your potential: How to build a career in FMCG, Hard & soft skills that will get you hired, Machine learning & Artificial Intelligence Conference, Internet of Things & Automotive, Let's talk career! Behind the hiring process, Be more than a candidate, create your personal brand!, Learn IT! Participarea la workshopuri şi conferinţe este gratuită, iar programul și detalii despre sesiuni pot fi găsite aici: https://www.hipo.ro/locuri-de-munca/angajatoridetop/bucuresti/conferinte_seminarii;
Sesiuni gratuite de consiliere în carieră. La standul CV Experts vor fi prezenți 4 specialişti cu vastă experiență în recrutare, care vor oferi candidaților recomandări cu privire la modalitatea de redactare a CV-ului și sfaturi despre cum să treacă cu succes de procesul de recrutare;

O parte dintre angajatorii care pot fi întâlniţi vineri și sâmbătă la Sala Palatului sunt: Accenture, Adecco, Allianz Technology, AMAZON, AMOMA.com, Auchan, Automatic Data Processing (ADP) Romania, Avira, Baneasa Shopping City, BCR, BearingPoint România, Bitdefender, Blue Projects, British American Tobacco, Carrefour România, Comdata Group România, Competence Call Center, Computer Generated Solutions România, Concentrix, DB Global Technology, DB Schenker SSC, DXC Technology, ENGIE, Ericsson, Euromaster, EY România, Federal Mogul, FEV ECE Automotive, FINASTRA, G2-Travel, Genpact, Grup Renault România, Harman, Henkel, Hewlett Packard Enterprise – HPE (România), HP Inc, Huawei, IKEA, Ipsos, JTI România, Kaufland România, Kellogg's, Leroy Merlin, Lidl România, McDonald's in Romania, Michelin România, Microsoft, Nestle, Nobel, Noriel, Oracle, P&G România, Peek & Cloppenburg, PepsiCo, Philip Morris România, Photo Hotel, Playtika, Pro Credit, Raiffeisen Bank, Randstad România, Romfracht, Schneider Electric, Secure Works, SNC Lavalin, Societe Generale European Business Services, Stefanini, Stericycle România, TBI Bank, Team Extension, Teleperformance, TELUS International Europe, Total Global Services Bucharest, TTTech Development România, UniCredit Business Integrated Solutions, Veeam Software, WALTER GROUP Austria, Winarrow, Wipro Automotive Excellence Center, Wipro LTD, WNS Global Services România.