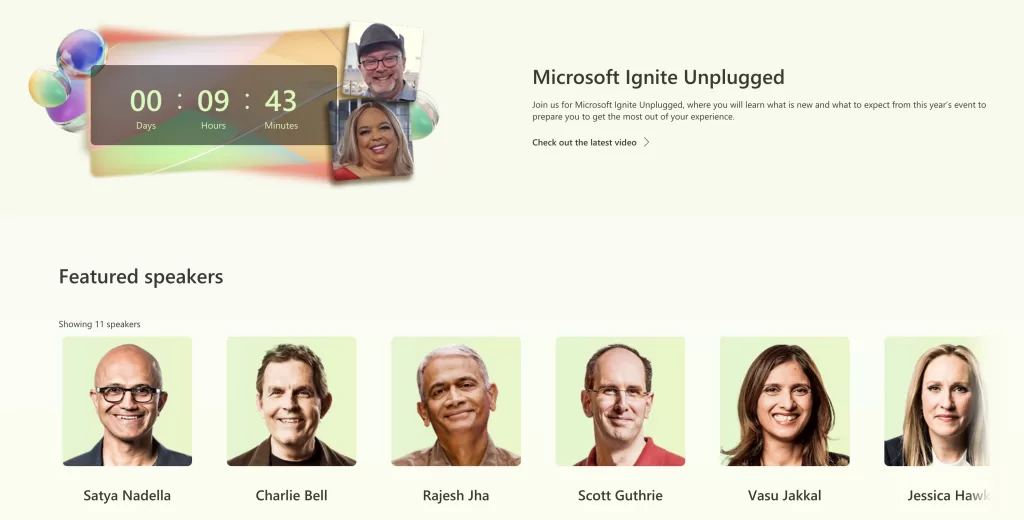 Azi, de la ora 19:00 a României începe conferința Microsoft Ignite, ce are loc la Seattle în format hibrid. Ca de obicei, evenimentul va fi deschis de către keynote-ul ținut de către Satya Nadella, ce va dura cam 45 de minute și este concentrat pe AI și oportunitățile ce apar odată cu publicitatea masivă pe care Microsoft o face AI-ului.
Urmează apoi sesiunile specifice, construite pe diferite niveluri de complexitate și o grămadă de subiecte adiacente: Data, Business Applications, Developer, Infrastructure, Modern Work, Security și bineînțeles AI & Apps.
Cum am spus, o grămadă de sesiuni sunt transmise live (sau înregistrate) pentru cei ce au ales să urmărească conferința online, participarea fiind aici gratuită – încă puteți să vă înregistrați pe site-ul Microsoft Ignite. Ca de obicei, recomandarea mea este să alegeți acele sesiuni care au subiecte ce vă interesează și să urmăriți acei speakeri despre care știți că oferă prezentări faine.
Eu mi-am ales sesiunile AI & Applications plus cele în care vor vorbi Scott Guthrie, mark Russinovich (Cloud Native Innovations with Mark Russinovich),Scot Hanselman (GitHub Copilot and AI for Developers: Potential and Pitfalls with Scott Hanselman). Apropo, am văzut că există mai multe sesiuni în care vor vorbi și câțiva români Daria Grigoriu, Principal PM Manager la Microsoft – All about Intelligent apps: What are they and how to build them Q&A, apoi Bogdan Crivat, Corporate Vice President, Azure Data Analytics – Build and manage enterprise scale data warehouses in Microsoft Fabric etc.
Din câte am văzut, Microsoft Ignite 2023 este despre AI și cât de minunat este el. Uitându-mă în urmă, o grămadă de chestii faine prezentate cu mare fast de Microsoft la conferințe gen BUILD, Ignite au ajuns la coșul de gunoi, ceea ce m-a făcut să fiu mai circumspect vizavi de aceste inovații. De asta mă interesează să văd ce vine nou și care e reacția pieței.
Poate că nu ar fi rău să faceți și voi același lucru, mai ales dacă lucrați în IT.