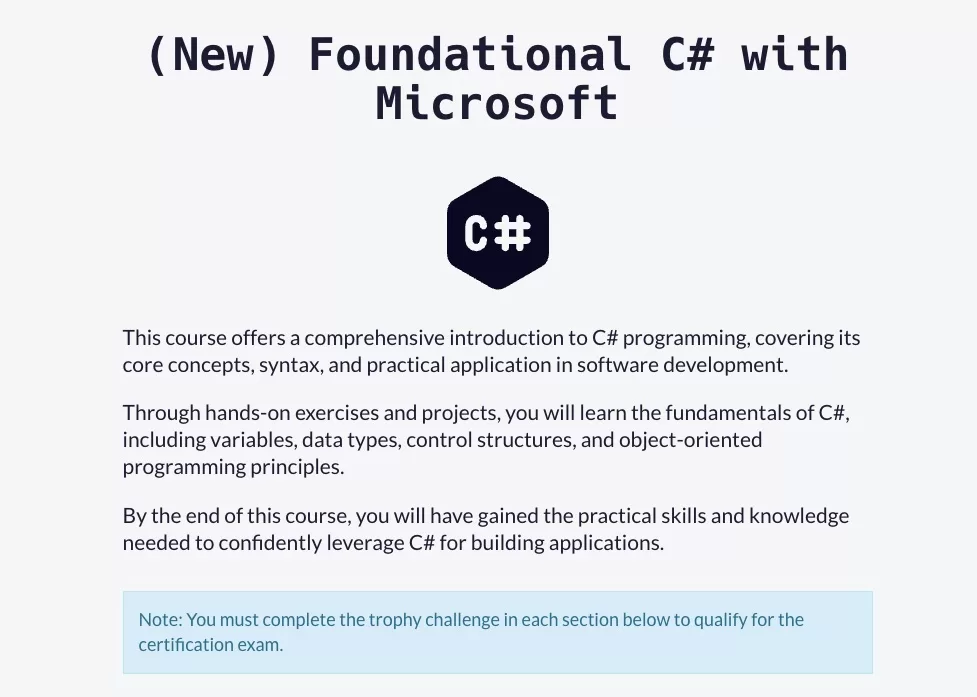 Vreau să vă semnalez faptul că Microsoft și Code Camp au o colaborare în urma căreia toți cei interesați pot obține o certificare C# în mod gratuit, după ce au parcurs setul Foundational C# with Microsoft.
Practic aveți acces la un curs de 35 de ore de C# de pe Microsoft Lern și apoi vă puteți testa cunoștințele obținute cu o certificare C#. Cred că e o oportunitate excelentă de a vă duce mai departe cunoștințele de programare, sau de ce nu, să porniți pe acest drum. Cursul în sine vă oferă posibilitatea de a explora conceptele de bază ale C#, sintaxa cu exemple clare, ușor de înțeles și mai multe lecții hands-on, unde va trebui să scrieți cod pe baza ceea ce ați învățat.
E o modalitate atractivă de a înțelege variabilele, tipurile de date, structurile de control, și principiile programării orientate pe obiect.
Structura cursului e aceasta:
Write Your First Code Using C#
Create and Run Simple C# Console Applications
Add Logic to C# Console Applications
Work with Variable Data in C# Console Applications
Create Methods in C# Console Applications
Debug C# Console Applications
Eu zic că merită ce încercați, nu aveți nimic de pierdut.